NEW Leadership eBook (free)
Adaptive Leadership for the New #MedEd: The one hour read
Do clinician educators of today need different leadership competencies than their counterparts from the past?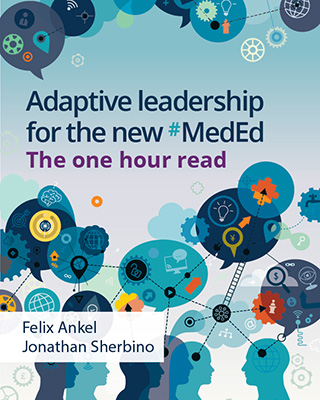 Download the book for free at iBooks or as a PDF.
The Royal College's new Adaptive Leadership For The New MedED: The one hour readsets out to answer this question. With contributions from experienced leaders and educators, Drs Felix Ankel, Jonathan Sherbino and the Royal College of Physicians and Surgeons of Canada present a free ebook or printable PDF.
Take a fresh look at medical education leadership through a "systems thinking" lens. Dive into topics like:
How medical education leaders can build a growth mindset within their communities
The skills leaders need to manage exponential change
Fostering resilience
Plus more!
Beginning with practical case examples, each chapter present a fresh take on medical education leadership. Chapter topics include:
Developing a shared vision – Felix Ankel and Bob Englander
Multiplying rather than micromanaging – Felix Ankel and Kelly Frisch
Cohesion and co-creation – Felix Ankel and Meghan Walsh
Trust Networks – Felix Ankel and Leah Hanson
Communication networks – Felix Ankel and Michelle Lin
Creating a robust personal learning network by nurturing weak ties – Felix Ankel and Anand Swaminathan
Identifying and communication clear values – Felix Ankel and Michelle Noltimier
Using a co-leadership model to increase density of connections – Felix Ankel and Jeanette Augustson
Bending the system to accelerate change – Felix Ankel and Nico Pronk
Reflective Practice and Learning Organizations – Felix Ankel and David Abelson
Whether you read just one chapter at a time or you opt to go soft cover to soft cover – this book will inspire you to think about things in a different way.