[toolkits to teach resource stewardship]
About CanMEDS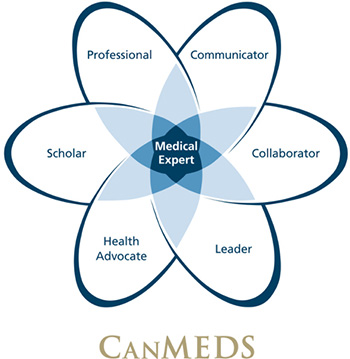 CanMEDS is a framework for improving patient care by enhancing physician training. Developed by the Royal College in the 1990s, its main purpose is to define the necessary competencies for all areas of medical practice and provide a comprehensive foundation for medical education and practice in Canada.
Since its formal adoption by the Royal College in 1996, CanMEDS has become the most widely accepted and applied physician competency framework in the world. It reflects the work of hundreds of Royal College Fellows and volunteers and is based on empirical research, sound education principles and broad stakeholder consultation. Renewal is key to the CanMEDS Framework's ongoing success, which is why it has been updated twice since it was developed — in 2005 and again in 2015.
CanMEDS Consortium integrates CanMEDS nationally
In February 2017, the Royal College united with 12 Canadian health care organizations to improve patient care through consistent use of the CanMEDS Framework. CanMEDS had been used primarily in postgraduate education, however the CanMEDS Consortium members committed to embed the CanMEDS Framework into their organizations' work.
With CanMEDS as an underlying, consistent competency framework throughout a physician's career, from medical school to continuing professional development, it has created a consistent approach to education and assessment, created efficiencies for university programs and medical students, and better enabled the medical regulatory authorities to align with clear expectations for assessment and behaviour in practice.
The CanMEDS Consortium is made up of the following provincial and national health care organizations:
The Royal College of Physicians and Surgeons of Canada
The College of Family Physicians of Canada
The Association of Faculties of Medicine of Canada
The Canadian Federation of Medical Students
The Canadian Medical Association
The Canadian Medical Protective Association
The Canadian Patient Safety Institute
The Collège des médecins du Québec
The Fédération médicale étudiante du Québec
The Federation of Medical Regulatory Authorities of Canada
The Fédération des médecins residents du Québec
The Medical Council of Canada
The Resident Doctors of Canada
Questions? Contact us
CanMEDS and Faculty Development
canmeds@royalcollege.ca
toll-free 1-800-668-3740 ext. 590
CanMEDS Diagram
Updated in 2015, the CanMEDS diagram shows the seven CanMEDS Roles and their interconnections. The CanMEDS diagram and associated materials are trademarked and can only be reproduced with permission from the Royal College. To obtain permission, please fill out the CanMEDS diagram request form and submit it to canmeds@royalcollege.ca for approval.

CanMEDS Diagram Request Form